Interpreters
Linguist Link's experienced interpreters ensure your message gets across optimally.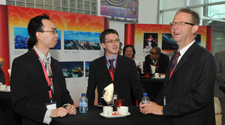 Linguist Link draws from a broad pool of interpreters, allowing us to provide in your needs for every imaginable occasion: from trade fairs, conferences, product presentations, sales trainings and seminars to meetings.
Conference and whispering interpreters, simultaneous or consecutive interpretation, Linguist Link has the right man or woman for the job: thoroughly prepared and in command of the relevant language and specialist subject matter. The ideal solution if you're planning a business trip or receiving foreign guests.
Companies, governmental agencies, foundations and associations in the Netherlands and abroad have been benefiting from Linguist Link's dedicated services and products for over 12 years now.
Linguist Link guarantees the greatest possible effort in terms of quality, accuracy and flexibility. The use of multiple interpreters always involves a Linguist Link interpreter coordinator, in order to ensure everything runs smoothly and relieve you of any unnecessary concerns. This service is included in the price.
In addition to providing the most suitable people for each job, Linguist Link also offers all the necessary audiovisual support for:
Trade fairs
Conferences
Product presentations
Sales trainings
Various types of meetings: share holders' meetings, works council meetings, intergovernmental negotiations, etc.
More information
Would you like to receive more information about our services or directly book an interpreter?